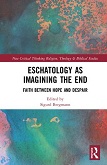 Eschatology as Imagining End
(Routledge) looks at how the study of apocalypse and eschatology become increasingly pertinent, as society becomes more concerned with the future of our planet. The book investigates how different approaches in historical and contemporary Christian theology make sense in reflecting about the final things, or the eschata, and why it is so important to consider their multi-faceted impact on our lives.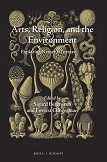 Arts, Religion, and the Environment
(Brill), coedited with Forrest J. Clingerman, looks at the imaginative possibilities of using the visual arts to address the breakdown of the human relationship with the environment. Bringing together contributions from artists, theologians, anthropologists and philosophers, it investigates the arts as a bridge between culture and nature, as well as between the human and more-than-human world.